I was recently reading a blog I'm quite fond of, Diamonds in the Library, and she discussed a style that I believe is totally underrated: stud earrings! She said something in a recent post that gave me a new admiration for these tiny pieces of jewelry:
Seeing my ear as a canvas rather than as an appendage with the ability to suspend a single decorative object has given me a whole new world of appreciation for stud earrings. They're made for mixing. I especially enjoy the artful combination of studs of different design that still have something in common: for example, the sparkle of a diamond.
The rest of her post is spent showing off 37 different ways you can pair stud earrings. Since these studs are already made, I thought I'd show you some earrings that you can create yourself. This selection is courtesy of Brit+Co.
Pretty Bow Stud Earrings
These cute bow stud earrings were inspired by Marc by Marc Jacobs. According to Small Good Things, you'll need the following materials to make these studs:
polymer clay
X-Acto knife
ruler
clay model tool (or a toothpick if you don't have any)
parchment paper
glue gun
a pair of flat earstuds
You can find the full tutorial here: http://www.small-good-things.com/archives/1432
Faux Druzy Studs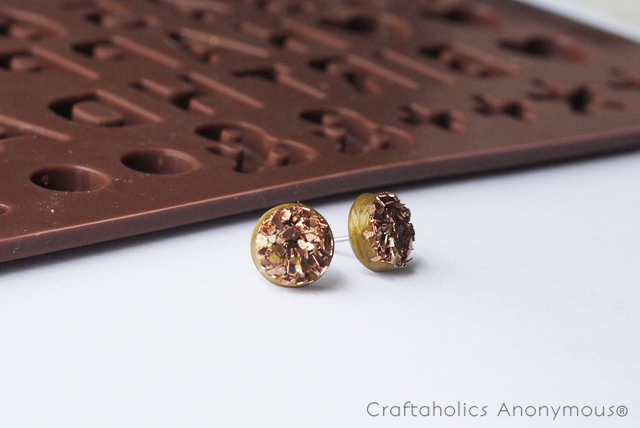 These adorable studs resemble rough druzy crystals. Craftaholics Anonymous shares the materials you'll need:
Glue gun
circle Silicone mold
Flat back earring posts
Learn how to create the faux druzy stud earrings.
Chevron Stud Earrings
These two-toned chevron stud earrings are extremely stylish and extremely eco-friendly. They're made out of cardboard! Seriously! Take a look at the materials:
Two Different Paints; Sealer; Paint Brush
Medium-thickness Dense Cardboard
Stud Earring Components
Strong Glue
Scissors; Tweezers
Baisley & Noir break down how to create these tiny, yet stylish stud earrings. Click here for the full tutorial.
Hexagon Stud Earrings
These studs are very in right now. The industrial look is making a statement this year and these earrings are very fashion forward. Here's what you'll need to create this look:
Polymer clay – I used Fimo
Metal shapes – I bought mine here.
Earring backs – I bought mine here.
Strong glue – I used UHU all purpose.
*CORRECTION* This glue didn't work. So far the only glue I have found to adhere to fimo is E6000.
The Crafted Blog gives a great tutorial on how to create these nifty studs.
These amazing stud earrings are just a sampling of the styles Brit+Co put together. All of the styles they chose to showcase have great tutorials from the creators' websites. Check out the full list here: http://www.brit.co/stud-earring-diy/
These earrings are a great start to create your own line of studs. Have fun with the styles and don't be afraid to mix it up! As Becky pointed out, it's fun to see how studs interact with each other, especially if your customer has more than two piercings.
If you've created some stud earrings or were inspired by this post to create some studs, I'd love to see them! Tweet me a picture @jewelryathome
---